Posted by
admin

in Pets on 05-02-2013
It can be tricky to know when and what to feed a dog although it sounds like a pretty basic question. Each dog will have its own dietary preference and some foods will no doubt work better for one dog than another.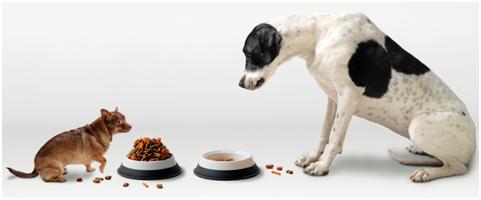 However deciding on an appropriate feed regarding size and age is always a good place to start. After all the diet can always be adapted if it doesn't seem to be working out.
Royal Canin provide a range of products some of which are targeted at various stages of your dog's development and various breeds. There are other feeds out there on the market however Royal Canin tends to be of a higher standard and come at more of an affordable price. The few feed suggestions listed below vary from feeding 2 month old puppies to extra small breeds.
Royal Canin Starter Mousse: can be used when your dog is a very young puppy during weaning and up to 2 months of age. It can also be fed to feeding bitches to help supplement the mineral and vitamins that are used in breast-feeding. The soft texture makes it very palatable for young puppies.
Royal Canin X-Small is designed to provide the best nutritional benefits for extra small dogs weighing 1-4 kg. This particular feed contains a number of antioxidants that will help strength the dog's natural defenses, therefore helping the fight against disease and ill health.
Royal Canin Mini is a food formulated for dogs weighing in at 1 -10kg at maturity. It is an all-round food which benefits this particular size of breed due to its carefully selected blend of proteins and carbohydrates, the balance will ensure that a smaller breed of dog is not receiving either of these elements in excess.
As mentioned earlier there are other feeds out there that will offer similar benefits, there is no right or wrong answer, often the best food for your dog will soon become apparent after some trial and error, but it's always good to start off with something that is technically appropriate.